NOVEMBER 2014
November's Guest Speaker is Bob Laskodi
Bob Laskodi will be presenting "California's Heritage Trout", a discussion on the wild and native trout found within the state. The program will focus on the history and genetic importance of these native trout and discuss the locations, methods, and techniques used to catch them.



Bob is a California "native", fishing the various waters of the expansive state since the 1970's

and after retiring from a "real job", owned and operated a retail fly fishing store, Fly Anglers Unlimited in Pleasanton, California. Currently, Bob is active in his local fly club, The San Jose Flycasters, and has previously served on the Board of Directors, including a term as President.

OCTOBER 2014

Dan's list of credentials would be longer than your arm, probably both arms!  Dan is a well-known and respected fly fishing and casting instructor, lecturer, fly fishing author and outdoor photographer.  Dan's Whistler series fly patterns, developed in the 1960's, remain popular and productive world-wide.  Dan's website www.danblanton.com provides a wealth of knowledge and a bulletin board to share just about anything with anybody.
Dan will be presenting his Fly Fishing the California Delta program at this month's meeting... something you will not want to miss if you fish the Delta!!
MAY 2014

May's Guest Speaker is Mikey Wier presenting a video tour of his most recent Projects

Mikey Wier started fly-fishing at age 7 and the sport has been a big part of his life ever since. Mikey was born in New Zealand and moved to the foothills of the Sierra Nevada Mountains at age 2. He spent much of his childhood chasing around bass and trout in the Hwy 88 region. Mikey joined the Delta fly fishers at age 9 and began tying flies. He further developed his skills over the years and now prides himself on trying to fish with only flies that he has tied.

Mikey moved to Lake Tahoe and has been snowboarding in the winters and working in the fly fishing industry in the summers for the past 15 years. He started out as a shop employee with the Tahoe Fly Fishing Outfitters and has been a full time guide in the Tahoe area for the past 15 seasons. Mikey most frequently guides the Carson Rivers, Pleasant Valley, the Walker Rivers, The Truckee and Little Truckee, and the high country lakes.
In 2001, Mikey started and today continues to operate Burl Productions specializing in adventure and outdoor films. Notable titles to his credit include the FISH EYE videos, the Trout Bum Diaries and SOULFISH and his latest CALI RUSH. Burl Productions is the first fishing oriented production company to bring non-instructional, hard core fishing entertainment based videos to the market. Burl Productions still prides itself on producing the most exciting videos available today. Mikey also keeps a blog chatting about all his latest filming and fishing adventures. Make sure to check it out.
In addition to all of that, Mikey is the current Outreach Coordinator for
California Trout
helping to protect California's Trout, Salmon, Steelhead and the state's Blue Ribbon waters.  Mikey is also an Ambassador to Patagonia Fly Fishing, Loon Outdoors, Galvan Reels and Outcast boats.


April 2014

April's Guest Speaker is Dan Lecount presenting "Seasons of the Truckee"

Dan is a fly fishing guide for Truckee River Outfitters. He's been guiding with them and the Reno Fly Shop for around 8 years and has been working in the fly fishing industry for over 15.

Dan is a contract fly designer for Umpqua Feather Merchants, and also ties flies commercially in his spare time. Dan used to tie commercially for the Reno Fly Shop and made a large number of their flies for Pyramid Lake in Nevada. In 2011, Dan helped Andy Burk start a short-lived fly shop called the "West River Fly Shop" where they tied most of all the flies in the shop themselves.

Dan has had numerous pictures and articles featured in California Fly Fisher, The Tahoe Weekly, The Sierra Sun and a few small spots in Sierra Fisherman. When not guiding, scouting water for he next client or tying flies,  Dan also wraps custom fly rods and is an avid spey caster.

Dan will be giving a presentation called "Seasons of the Truckee" covering the North Tahoe area by season. Describing the "whens", "wheres" and "hows" to being a successful, year round angler. Dan will also bring his vice and will tie some of his custom patterns for the Truckee area if time allows.

March 2014

March's Guest Speaker is Ed Lawrence presenting Fly Fishing the Bozeman Montana Drainages

Ed has been fishing and guiding in the Bozeman MT area since the 1980's.
He has been guiding the Yellowstone, Madison, Gallatin, Missouri and the Yellowstone National Park for 12 years.  Ed has a staff of seasoned veterans who work with him.
Ed's presentation will cover the major drainages near Bozeman Montana:  Gallatin, Madison, Yellowstone, and some in the Park.  He will cover where to go, when to go and what to bring with you.
More on Ed Lawrence...
Welcome to Flyfishing, Montana Style... You know, Big Sky country is a special place. The sky is so big it seems you can see into the future. Tree covered mountains are inhabited by deer, elk, and moose, the skies by eagles and osprey, the fields by livestock keeping the Sandhill cranes company…it's pretty cool. And the fishing? Well, let's just say there's a reason all of the major airlines fly fishermen from all points of the compass to Bozeman, and why Simms fishing products is located here.

And Bozeman, our home base, is a 'Just Right' town…just the right size…just the right number of restaurants…shops…. and people. And it's 'Just Right' for flyfishers, whether you're the experienced veteran, or a newbie, or somewhere in the middle.

If you're the Experienced Angler,  we'll employ our knowledge of local waters to put you in the most likely fishing holes…If  you're the Intermediate, we'll coach you as you refine  your skills…A First-Timer will benefit from the patient, understanding teaching methods we employ.

Regardless of your skill level, we understand that a day on the river is more enjoyable when you're spending it with guides who are tuned into, and responsive to, your needs and expectations.

It'll be fun!
You can find more information on Ed's services at:
February 2014
February's Guest Speaker is Rob Anderson presenting Fly Fishing on Pyramid Lake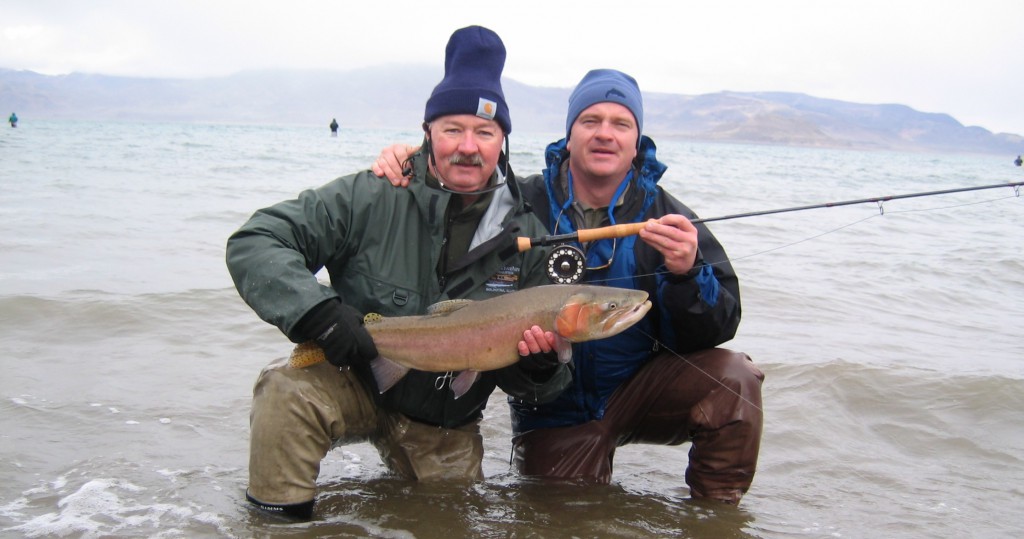 Rob resides in Reno, Nevada and currently has his own fly fishing travel business, Bucket List Fly Fishing Adventures and is the lead guide and owner of Reno Fly Fishing Outfitters. Rob currently guides on the Truckee River in both California and Nevada, Pyramid Lake, Davis Lake, East Walker River, Frenchman's and 4 different private waters. He regularly does speaking engagements on Pyramid Lake other Northern Nevada and California waters and numerous "Bucket List" destinations around the world.  Rob is always willing and ready to educate fly fishing enthusiasts.
Rob Anderson grew up in Virginia and was fishing from the time he can remember.  At the age of 9, he learned to fly fish.  From that point on he fly-fished for bass and pan fish in Virginia as much as possible. After college, Rob pursued his other passion, golf, by working in that business for 15 years.  During this time he had headed west and settled in Lake Tahoe.  In 1997, while still working in the golf industry, he was reintroduced to fly fishing by his friend Chris Evison.  Chris taught him the art of fly fishing for trout in moving water.  His love of the sport was reborn!
In his free time from the golf business he regularly visited the Reno Fly Shop where he began learning how to tie flies (he is now a Signature Fly Designer for Umpqua Feather Merchants with over 20 patterns tied commercially).  In the fall of 2001, the Reno Fly Shop offered Rob a part-time job which shortly thereafter, turned into a full time position managing the retail store, private waters program and guide business until the Reno Fly Shop closed in 2010.
It was in 2003 that Rob pursued his interest in guiding at Pyramid Lake. Rob ultimately became the first non-tribal fly fishing guide at the Lake. Since that time has built a fly fishing specific website for Pyramid Lake and runs the largest and most successful guide service there. Rob's love of Pyramid Lake has also driven him to design Pyramid-specific flies which have increased the popularity of nymphing at the lake.  Two of these flies are the Maholo Fly and the Maholo Midge.
Rob was able to incorporate his passion for food into the guiding experience through his private waters program and hosting larger group outings and clinics. This unique offering sets guide trips with Rob apart from all others. Rob has several programs designed for larger groups at popular fly fishing destinations like Pyramid Lake and Davis Lake. Lakeside Meals and guided fly fishing for parties of 10 or more are easy. Meals are usually gourmet and can be things like Biscuits and Gravy, Turkey Noodle Soup, Smoked Baby back ribs, Venison Burgers and much more.
Whether you are a single angler looking to spend a half day on the water or a larger group looking for a unique fly fishing experience you will never forget, Rob is the man.